Low hanging fruits of Fleet Data
Powerful & Useful
Real Benefits of Utilising Fleethub Data
"Business Intelligence and ability to deliver fast turnarounds to large enterprises. Customer chose Fleethub due to the Business Intelligence capabilities of Fleethub. Fleethub's ability to integrate with SIPOC process was crucial. Fleethub enabled insights that were previously not available for customer."

"Fleethub provided a solution that could be used for optimising lift truck maintenance. There were no other solution in the market to provide the same."

"Using Fleethub enabled the ability to communicate between all suppliers and stakeholders within material handling. Also, the ability to track the fleet profitability and performance across brands is ground breaking."

"For rental and maintenance companies it is critical to be able to maintain the SLA using remote management and automated maintenance calls. For our partner, Fleethub improves the customer experience and ability to sell more of our rental and maintenance services."

"The realtime cloud-based management of Driver's driving license in indoor logistics will help us deliver safe operation in challenging three-shift-work."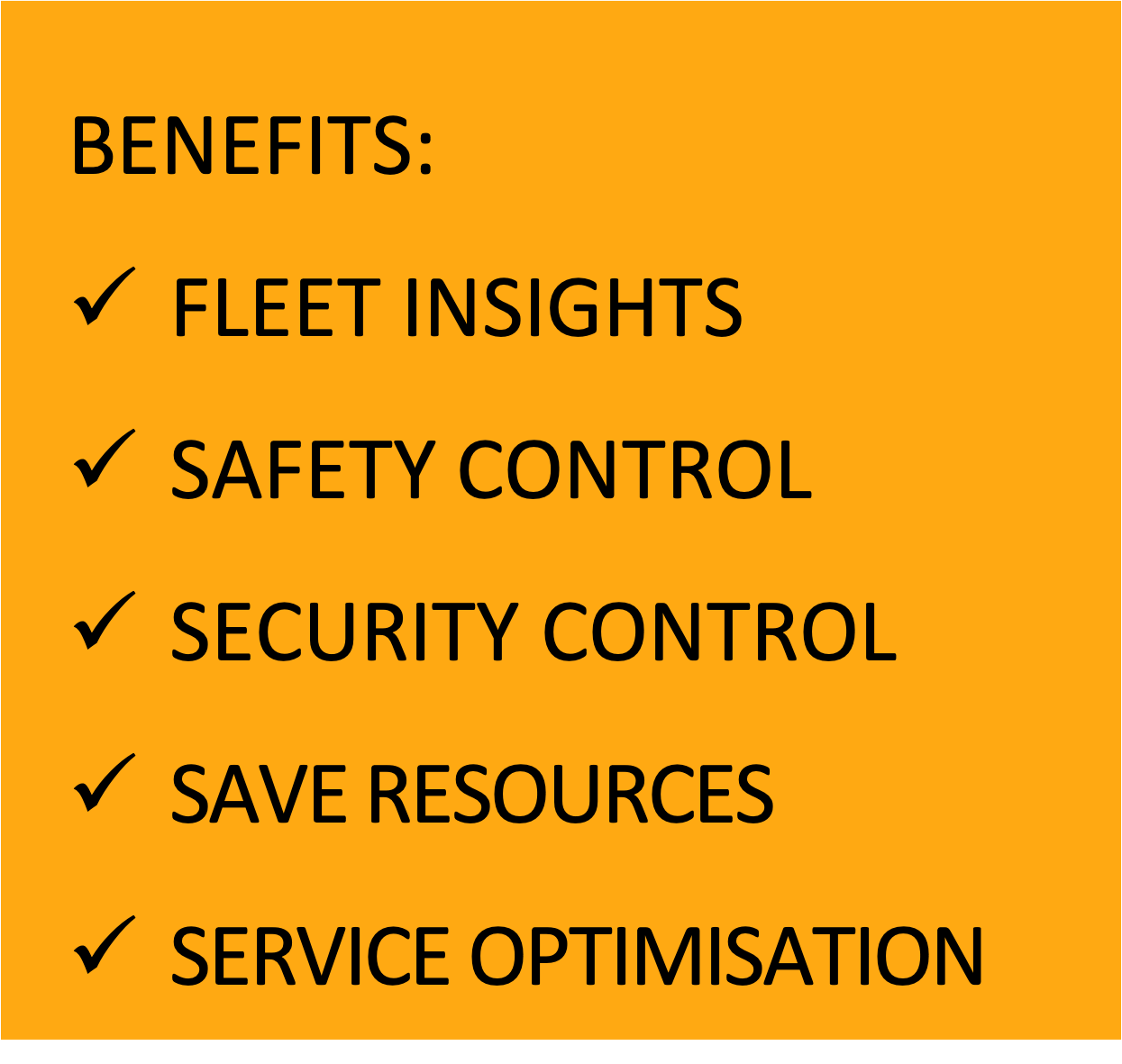 Utilization rate is the most wanted KPI?
Utilization rate of your machinery is the key figure, when calculating the true cost of ownership. Utilization rate in simple terms means actual fleet output versus maximum potential output. Fleet owner should also have detailed knowledge of when the vehicles are being used, what days during the week and what time periods during the day are the peaks. Fleethub customer interface shows utilization rate in column diagram that can dynamically be set by hour, day, week, month or year.
Fleet Management use cases:
Understand which half of your fleet is unused
Which vehicles need your attention
When, where and how the accidents occur?
Prevent accidents with hyper automation
Improve employee experience with safety measures.
Improve the invoicing process with real time data
Save money with better logistical arrangements
Reasons to Automate Your Maintenance
Access the fleet information
All fleet related information is stored in one cloud service. In the Fleethub software the main user can add organizations, set roles to personnel, and regulate accessible data. The information is accessible with desktop and mobile devices.
Manage with Quality Communication
Fleethub software's maintenance module lets you communicate directly with third-party service providers, and control machinery in maintenance process. The true benefit is avoiding unnecessary phone calls, the lack of machinery information among parties, and issues related to opening hours.
Automate service processes
With Fleethub management system, customers can set time intervals, and automatically call the vehicle to maintenance. The software automatically generates service schedules based on recommendations by the manufacturer. This is significantly important with vehicles that have a leasing program. Penalties for overlapping recommended service schedule for leased machinery is truly expensive.
With Fleethub software you can report repair needs as they appear at the work sight, and significantly lower the downtime of the machinery. Asset utilization is the number one cost, which should be looked at carefully. Fleethub software users can customize service calls and time intervals based on true vehicle utilization.
By using the Fleethub software customers automatically generate a digital logbook with detailed service records, pdf-attachments, and spare part receipts. The vehicle service history with logbook holds the value of the used machinery.
Ensure Safety
Fleethub software allows customers to set inspection process standards based on a vehicle type or as a company policy for all machinery. By analyzing collision reports the company management can design more effective and safe layouts and driving routes.
Real-time incident reporting helps your company to be faster and more productive in producing health and safety reports, for example ISO, OHSAS and OHAS.
Evaluate the Service Process
Customers get detailed analytics of the maintenance process for individual vehicle or for the entire fleet. You can analyze the service process and make improvements by learning from the collected data.
Order sample device for FREE!
Use Fleethub to create customized insights.